Anoka-Ramsey Community College and Ever Cat Fuels, LLC., both located in Minnesota, have teamed up to encourage land owners to plant Energy Crops- The SUSTAINABLE way to produce Biodiesel.
---
PENNYCRESS-Energy Crop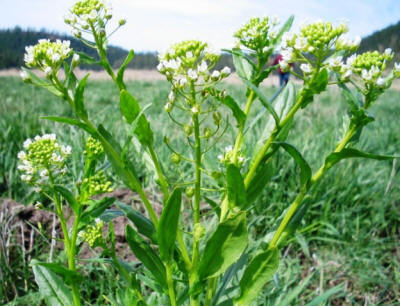 Blooming Pennycress with seed pods starting to develop on middle stem of photo.

WHY PLANT PENNYCRESS?
Pennycress has the potential to be a great energy crop due to its high percentage of oil in its seeds, which can then be turned into Biodiesel- a renewable resource.
WHERE IS IT BEING GROWN NOW AS AN ENERGY CROP?
Minnesota and Iowa have begun growing Pennycress as an energy crop along with Illinois and Nebraska.
WHEN SHOULD YOU PLANT IT AND WHAT ARE SOME PLANTING METHODS USED TODAY?
Pennycress seeds require a very shallow planting depth in the fall. USDA research demonstrated that traditional grain drills and grass seeders work well. Planting into corn stubble with an air-flow fertilizer spreader and aerial release from an airplane were also successful. Aerial seeding has the added benefit that it can plant into standing corn earlier in the fall. These two broadcast methods also have the advantage are that Pennycress planting can be performed by contractors using these methods very quickly and economically without the farmer disrupting his traditional fall harvest work. No additional fieldwork is required from the time of planting to harvest because no insecticide or herbicide applications are required for a successful Pennycress crop. As a member of the mustard family and a winter annual, insect pressure is insignificant due to its natural chemistry and the temperatures of the growing season thus limiting an insecticide requirement. By germinating in the fall after the typical summer growing season, competition from other plants as weeds is very limited and spring stands of Pennycress out-compete emerging summer weeds. Pennycress completes its lifecycle and is harvested before traditional summer crops begin their production cycle.
HOW DOES IT GROW WITH OTHER CROPS?
Soybeans can be planted immediately into Penncyress stubble allowing double cropping in the same year. Research at Western Illinois University has demonstrated that there are no negative impacts on soybeans grown immediately following Pennycress production. Soybean germination, flowering, biomass and yields all were equal to plants grown in control plots.
Because Pennycress is planted between corn and soybeans in their traditional rotation sequence with out impacting these crops, income from Pennycress is all additional money to the farming operation.
DOES ANYTHING NEED TO BE ADDED FOR IT TO GROW WELL?
It can grow well without any additional fertilizers since it generally has low fertility requirements. If double cropping use the fertilizer specifications for the other crop you plan on planting. Fertilizer can also be applied prior to planting or included with the seed if broadcasting.
HOW SHOULD IT BE HARVESTED?
Harvest takes place in June using traditional combines with grain heads when seed moistures reach between 8-12%. All combines easily thresh the crop separating chaff from the small seeds delivering a clean crop. A major benefit of Pennycress is that the seeds have a high bulk density and transportation to storage and extraction facilities is very efficient using traditional transportation methods.
| | |
| --- | --- |
| Scientific Name | Thlaspi arvense L. |
| Other Names | Penny-cress and stink-weed |
| Life Cycle | winter annual |
| General Description | Plant with a rosette of leaves and erect flowering stems. Fruits are winged pods. |
| Seedlings | Cotyledons are bluish green, and oval to elliptical on long petioles. Young leaves are smooth, round to oval on petioles and arranged in a basal rosette. |
| True Leaves and Stem | Leaves are lanceolate to ovate, with a wavy or toothed margin. Basal leaves do not persist until maturity. Stems are smooth, erect and have very few leaves. Stems leaves are sessile and have auricles where the leaf attaches to the stem. |
| Roots | Taproot with secondary fiberous roots. |
| Flower and Fruit | White, four-petaled flowers are produced in dense racemes. The racemes elongate with age. Fruits are flat, winged, circular (penny-shaped), with a notch at the apex. There are approximately 4-16 seeds in each fruit. |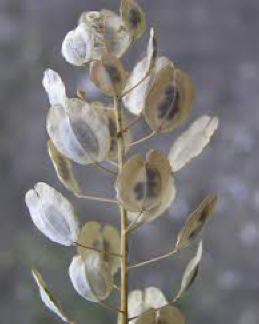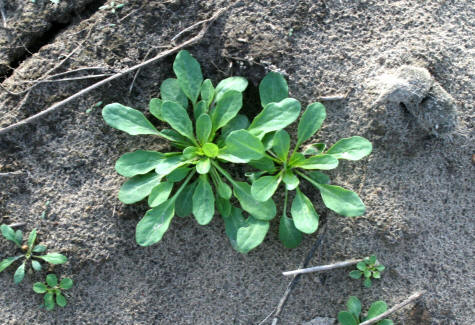 Dried Pennycress pods with seeds (left) Pennycress rosette (right).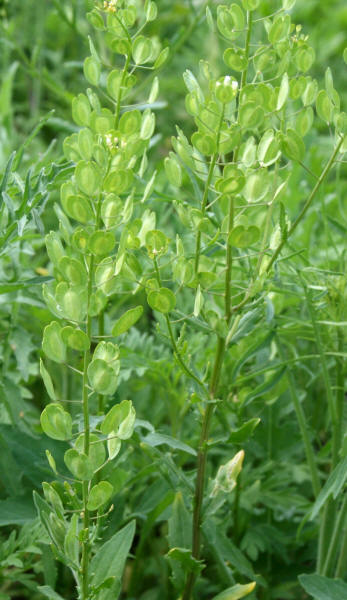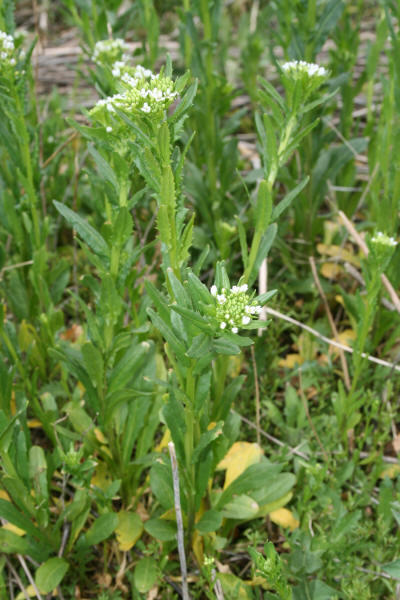 Pennycress pods with seeds (left) and blooming Pennycress (right).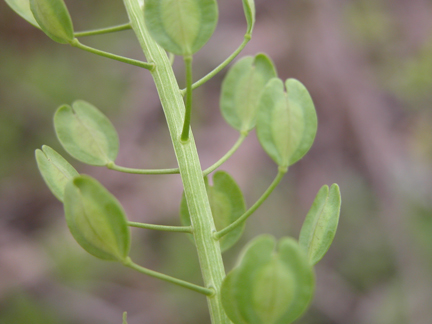 Close-up of Pennycress pods.
Most information was gathered from the following websites about growing Pennycress:
http://magissues.farmprogress.com/pra/PF06Jun12/pra042.pdf
http://www.growpennycress.com/strategy.html
http://www.growpennycress.com/farming.html