ScholarshipS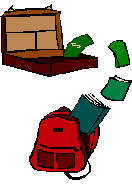 Being a member of Phi Theta Kappa gives you a huge number of resources designed to help you find and be awarded scholarships to continue your education. There are scholarship opportunities for two-year and four-year funds, and a number are only available to members! To see much more about what is offered through Phi Theta Kappa International, visit the scholarships page at the ptk.org website.

On campus, you can contact
the VP of Scholarship for more information.
JACK KENT COOK 2011 SCHOLARSHIP PROCESS BEGINS!
Click here for information on big money!