The following is a list of what amphibian and reptile species have been observed in the Natural Area and other parts of the Coon Rapids campus. If you have observed other species, please report them to Joan McKearnan. Links to Minnesota Herpnet provide more information about each species.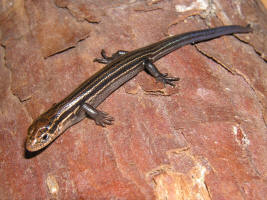 Prairie skink found in Natural Area
---
© 2013 Anoka-Ramsey Community College - Biology Department.
The contents of this page have not been reviewed by ARCC.
Last Updated -August 12, 2016
Comments or Problems contact: