CHEM 1020-30
Reduced seat time evening class
Spring 2009
Interpretive Chemistry
Cambridge Campus
Anoka-Ramsey Community College
Andy Aspaas, Instructor
Email: Andrew.Aspaas@AnokaRamsey.edu
Email form
Andy Aspaas homepage
Chemistry Department homepage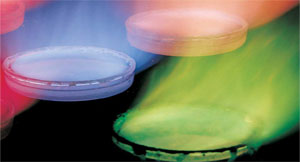 The flames of metal salts are often brightly colored
Links
Announcements:
Comprehensive final exam is Monday, May 11 from 6pm to 8pm. You are allowed one 3x5" notecard for the final exam.
There will be study sessions Wed May 6 at 6pm and Mon May 11 at 3pm.
Lec 11 post assignment in MasteringChemistry due before class Mon, May 11.
Discussion assignment 2 is in the D2L discussions. Phase 3 post due at noon Fri, May 8; replies due before final exam.
Experiments 11 and 12 in your packet are available as extra credit labs (up to 5 extra credit points each). Complete them in your kitchen and hand the worksheets in at the final exam.
Course information:
Blank lecture notes, print and bring: (PDF format)
Completed lecture notes: (PDF format)
Handouts: (PDF format)
Practice worksheets
Exams:
Blanks and answer keys for our exams are in D2L under Content.